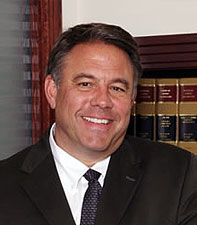 Mr. William G. Brewer graduated from Drake University Law School in 1982. He served as a prosecutor in the Des Moines County Attorney's Office through October 1985. Since then he has been engaged in the private practice of law in the Des Moines area. He received his Bachelor of Business Administration degree from the University of Iowa in 1979. William attended Wahlert High School in Dubuque, Iowa.
Mr. Brewer now devotes the majority of his time working in the area of personal injury law, and also practices criminal and corporate law. Mr. Brewer, as well as the other attorneys of the McEnroe Law Firm, take cases and represent clients throughout the State of Iowa.  Mr. Brewer is licensed in the State Courts of Iowa and Illinois. He is also licensed in the Southern and Northern District Federal Courts of Iowa, as well as the Eighth Circuit Court of Appeals.  Mr. Brewer is a member of the CJA panel of attorneys for the Federal Criminal Court. He is also a member of the American Bar Association, Iowa Bar Association, and the Polk County Bar Association. William is also a member of the Iowa Association for Justice and the American Association for Justice formally known as the Trial Lawyers Association.
Mr. Brewer is one of the founding members and currently serves on the Board of Directors for The Friends of the Platte River, a 501(c) nonprofit organization dedicated to the restoration of the Platte River Basin in southwestern Wisconsin.
PRACTICING IN
Personal Injury
Slip and Fall
Auto Accidents
Motorcycle Accidents
Wrongful Death
Any negligent act of another that results in your pain or suffering
Corporate Law
Incorporation
Buy-Sell Agreements
Non-compete agreements
Criminal Law
O.W.I.
Narcotics
Assault
Theft
Forgery
Burglary
Robbery
Sexual Assault
Arson
Vice
Public Intoxication
Any criminal charge
REPRESENTATIVE CLIENTS
Millang Financial Group LLC
Polk County Heating and Cooling Inc
Bail Bond Pros Inc
K & V Homes Inc
REPRESENTATIVE CASES
State v. Walker, 804 N.W.2d 284 (Iowa, 2011)
Gavlock v. Coleman, 493 N.W.2d 94 (Iowa App., 1992)
Duntz v. Zeimet, 478 N.W.2d 635 (Iowa Supreme Court, 1991